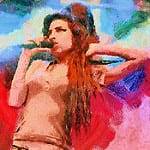 Movie Review by Richard J. Loebl, LCSW, BCD
"Amy", the documentary feature film currently in theatres, is the heartbreaking story about Amy Winehouse, the English singer songwriter who struggled with addiction and bipolar disorder. Amy's talent was unique – her creative fusion of jazz, R&B, reggae, and hip-hop, and her incredible vocal range and artistry made her one of the truly great musical talents of the contemporary era. After recording a duet with the great jazz singer Tony Bennett, he said that "She was really a great jazz singer. A true jazz singer." This movie captures Amy's brilliance and incredible talent – along with her tragic emotional problems, addiction, and early death. The movie also reveals some aspects of the trauma she experienced growing up, and during her musical career.
I found myself wanting more information about Amy's experiences with emotional trauma (abuse and abandonment, especially during childhood). The movie could have revealed a more complete narrative to explain the singer's troubled life and problems with bipolar disorder and addiction. There were many scenes that graphically illustrated the disturbing behavior of the paparazzi (photographers and reporters who relentlessly stalked her). Their abusive behavior – surrounding her almost daily with flashing cameras and incessant questions about her lifestyle – was certainly emotionally traumatic for Amy. But I have to wonder if that trauma was over-emphasized, particularly in comparison to her early childhood trauma. The documentary did show one or two brief home movies of a somewhat hyperactive child and her mother, who said that she (mother) gave up trying to control Amy's behavior. Amy's parents separated when she was 9, and the movie implied that Amy experienced a traumatic series of abandonments by her parents and other caretakers. There were also indications that her father was manipulative and tried to profit from Amy's success.
Amy's behavioral problems and addiction were consistent with a history of trauma. Her symptoms almost speak for themselves. At an early age, Amy's behavior was out of control. She consistently defied authority and was expelled from school at the age of 16. The movie revealed some indications of a young woman with a terrible self-image. She doubted her own talent and she had a very negative body image. She developed bulimia, a serious eating disorder, and she had a long history of self-mutilating behavior (especially cutting her legs and arms). It was disturbing to watch scenes of this incredibly talented musician cycling between moods of joy and deep depression. She was diagnosed with bipolar disorder, and there are clear indications of borderline personality disorder (fears of abandonment and frantic, co-dependent efforts to avoid abandonment; intense and unstable interpersonal relationships; impulsivity with drugs, sex and violent behavior toward others; and anger management problems). Karen Heller with The Philadelphia Inquirer described Amy's turmoil:
She's only 24 with six Grammy nominations, crashing headfirst into success and despair, with a codependent husband in jail, exhibitionist parents with questionable judgment, and the paparazzi documenting her emotional and physical distress.
One early result of Amy's childhood trauma and problems with impulse control was her use of alcohol and drugs. Reliable reports indicate that she experimented with alcohol in her early teens, and was smoking marijuana on a regular basis by the age of 16. A regular pattern of chemical abuse developed by her early 20's, and it's evident that Amy was self-medicating to cope with her personal, emotional turmoil. Her addiction progressed to include cocaine, crack, and heroin. She was hospitalized in 2007 for an overdose of heroin, ecstasy, cocaine and alcohol. She refused admission to a rehabilitation program (which is quite common with addicts and those with bipolar disorder), writing the popular song "Rehab" as an act of defiance. Amy did enter rehab in 2008, and subsequently, when she was unable or unwilling to practice sobriety, she was involuntary committed to a treatment facility later that year.
Finally, in 2010 Amy quit using drugs completely. However, she continued to drink alcohol frequently and heavily. When she recorded the duet with Tony Bennett, he later said that
…I didn't even know it when we were making the record, and now looking at the whole thing; she knew that she was in a lot of trouble; that she wasn't going to live. And it wasn't drugs. It was alcohol toward the end. . . . It was such a sad thing…
Amy saw a psychiatrist during that period of time, and he prescribed Librium for her addiction to alcohol and for her anxiety. However, Amy refused psychotherapy for her addiction and bipolar disorder. Tragically, Amy died in 2011 from accidental alcohol poisoning. At the time of her death, Amy's blood alcohol level was 5 times the legal limit.
It seems to be an eerie coincidence that some of the greatest, original musical talents of the last few generations died at such a young age with similar circumstances. For example, Jimi Hendrix, Janis Joplin, Curt Cobain, and Amy Winehouse all suffered from bipolar disorder and addictions – all four of them dying at the age of 27. These tragedies are avoidable. Childhood trauma – abuse and abandonment – and the resulting problems of addiction, depression, eating disorders, and bipolar disorder can be successfully treated and healed. It's been said that some of the greatest creative accomplishments stem from "insanity" or a disordered mind. I believe we are on the threshold of treatments that can effectively control or manage these emotional problems – and, at the same time, protect and nourish even the most productive, creative talents.
We only said goodbye with words
I died a hundred times
You go back to her
And I go back to black
"Back To Black", Amy Winehouse, 2006