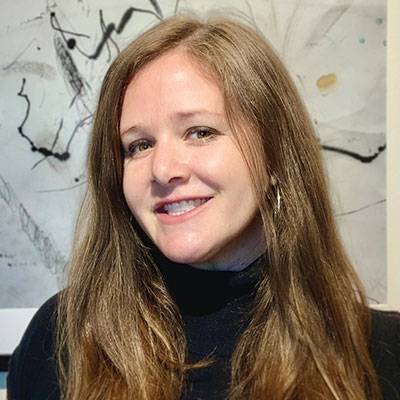 Licensed Mental Health Counselor
Hillary Vercosa-Kaufman (she/her/hers) is a Registered Art Therapist (ATR) and Licensed Mental Health Counselor (LMHC). Hillary's approach centers around utilizing and uncovering the inherent strengths of each client as well as building a strong, trusting relationship where healing and change can take place. Hillary strives to create a safe, nurturing, and creative space where clients can explore and express themselves verbally, through art materials, and within the counseling relationship. She works with children, adolescents, adults, and couples with a focus on creative, arts-based expression alongside talk therapy.
Hillary wants clients to know that there is no art experience needed for art therapy sessions. She believes that there is no equation or right way to engage with art therapy. It is a collaborative process between client, therapist, and the art media. Clients can choose from a wide range of materials and techniques, bring their own artwork from home, or simply freely paint, draw, color, or sculpt while talking in session (creating can really help conversation flow). Hillary will meet each client where they are at and can guide with materials, ideas, and techniques to support growth, deepening understanding, working towards goals, and developing new perspectives.
Hillary received her Master's Degree in Art Therapy and Counseling from the School of the Art Institute of Chicago and has lived and worked in Chicago, Boston, Santa Fe, and now Boca Raton, Florida. She is also an artist specializing in Altering Books (using an old or discarded book as an art material to transform the text and sometimes the structure of the book) and mixed media arts. Studying art therapy ignited her own self- explorations through her art process and she brings this wisdom and depth of experience with art and art materials to meet each client in their unique journey.