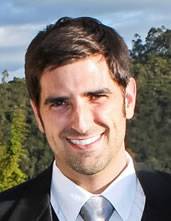 Post-Doctoral Psychology Fellow
Douglas Jones, Ph.D. is a post-doctoral psychology resident who provides testing, evaluation, and therapy to children, adults, and couples. He specializes in the provision of comprehensive psychological evaluations as well as the clinical treatment of anxiety-related disorders. Dr. Jones earned his Ph.D. in psychology at the University of Florida and also holds a B.A. degree from the University of Notre Dame.
Dr. Jones performs psychological and psychoeducational testing for both children and adults. These evaluations provide a detailed understanding of how a person functions and processes the world around them in order to facilitate academic, social, and occupational success. Psychological testing is used to determine diagnoses such as ADHD, anxiety disorders, depression, bipolar disorder, and personality disorders. Psychoeducational evaluations are typically conducted on children and adolescents to facilitate appropriate educational accommodations, uncover any learning disabilities, and determine gifted program placement.
Dr. Jones has several years of clinical assessment and treatment experience in private practice, university treatment centers, and educational settings. He has worked as a psychological evaluator for several private and public organizations throughout the State of Florida. Moreover, he developed expertise in cognitive-behavioral therapy (CBT) during his years of clinical training through the College of Medicine at the University of Florida. He has provided intensive cognitive-behavioral outpatient treatment to child, adolescent, and adult patients suffering from a variety of anxiety and OCD spectrum disorders.
Dr. Jones has presented numerous lectures and workshops at various psychological conferences including the American Psychological Association. He has also published several peer-reviewed journal articles in the areas of psychological assessment and treatment. Most recently, Dr. Jones has worked with ABC News as a specialist on the treatment of anxiety disorders.
As a husband and father, he strives to live by the therapeutic principles espoused in his profession. A long-term student and teacher of meditation and Eastern philosophies, Doug has travelled extensively in Asia and lived as a monastic for nearly a year. Due to his diverse experiences and training, he is able to integrate a wide range of therapeutic approaches in treatment including CBT, emotionally focused couples therapy (EFT), acceptance and commitment therapy, and pet therapy. He also frequently incorporates the practice of mindfulness into his work with clients.