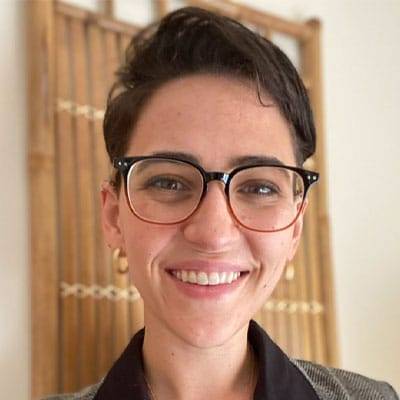 Registered Clinical Social Work Intern ISW#15496
Dani Sullivan, MSW, is a therapist, educator, and advocate. Dani specializes in working with couples, individuals, teenagers, emerging adults, families, and the LGBTQIA+ folks population.
Dani strives to cultivate change rooted in self-acceptance and understanding. She is motivated by personal and familial experiences of transformation and abundance after hardship. Her mission is to provide holistic, person-centered therapy to individuals, couples and families to cultivate resilience, hope, and positive change. Dani's work is based on integrity, connection, and profound respect for the human condition.
Dani's clinical methods include NARM (the NeuroAffective Relational Model), Somatic Approaches (mind-body), Cognitive Behavioral Therapy, Distress Tolerance, Narrative Therapy, and mindfulness training. Clients are not viewed as a diagnosis, but as a whole person, and Dani tailors an individualized approach for each client to support their growth and recovery. Dani uses focused clinical interventions to support clients managing depression, anxiety, mood regulation, grief, trauma, gender and sexuality, substance abuse, inclusion, family conflict, & relationship issues.
Dani has served diverse communities and populations as a social worker for the last 7 years. Prior to entering the counseling and mental health field, Dani worked with at-risk youth in Chicago Public Schools. Dani is a trained sex educator and community organizer and works passionately for advocacy, inclusivity, conflict management, and social change.
Dani earned her Bachelor's degree in Advocacy and Social Change from Loyola University Chicago and her Master's degree in Social Work from Florida Atlantic University. Dani has worked as a therapist in a variety of mental health settings including community clinics, treatment centers, homeless shelters, and legal offices.
Dani believes that we all have the capacity for growth and aliveness, and looks forward to learning from her clients about the obstacles to healing they face. Dani's approach to healing comes from seeing systems of injustice in our world as barriers that create the illusion of separation in our communities. Social work operates on three interrelated levels of practice called micro, mezzo, and macro. Dani started in the field of mental health on a macro scale, focusing on advocacy, research, and education. Now, Dani operates in Mezzo and Micro settings, working with communities, families, groups and individuals looking for healing and growth. Dani's passion lies in working with clients to connect to themselves and one another.